Major Research Application Support Program
The Major Research Application Support (MRAS) Program provides in-principle financial support for research applications being submitted to nationally and internationally competitive grant funding rounds to boost their chance of success. Through this, it is expected that the MRAS Program will enable opportunities for the translation of research findings into new knowledge and improved health and wellbeing, address areas of need, and enhance WA's standing as a leader in health and medical research.

The MRAS Program provides cash commitments for applications to relevant major competitive research funding programs (External Programs) that explicitly require co-funding.

Funding for the MRAS Program is provided by the Future Health Research and Innovation (FHRI) Fund with in-principle cash commitments made available for successful MRAS applications.

Funding will be disbursed when evidence is provided that the External Program application has been successful and an appropriate funding agreement is executed.

On 9 September 2022, it was announced that the removal of the $1 million per application funding cap had been extended for the MRAS Program. Removal of the cap is temporary and only applies to applications received up to 8 December 2022, but may also be considered for future application periods.

Please note that eligibility criteria have been changed for the residency status of MRAS application Coordinating Principal Investigators. In addition to Australian Citizens or permanent residents in Australia, applicants who are New Zealand citizens or have appropriate work visas in place are also eligible to apply to the MRAS program. This change has also been applied to other relevant FHRI Fund Programs and Initiatives.

Potential applicants are advised to use the appropriate application form, based on the MRAS funding commitment being sought. One form is for applications seeking up to and including $1 million and the other is for applications seeking more than $1 million.

Program Status: Closed for Applications

Assessment of applications will take place according to the 4-monthly program cycles in November, March and July.
Convening review panels outside the standard review schedule will be at the discretion of the Office of Medical Research and Innovation in consideration of the closing date of the funding opportunity.
MRAS applicants are advised that it is incumbent on them to provide MRAS applications well in advance of the External Program closing date to allow time for the review and approval of in-principle commitments.
The Major Research Application Support Program Guidelines and Conditions and Application Forms can be accessed below. Please note that these documents will be revised over time to ensure eligibility criteria are consistent with External Programs that are within the scope of the MRAS Program. Therefore, please always download the documents from this page before each new submission.

Guidelines and Conditions (applicable to all applications)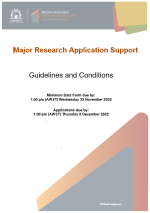 Application Form: requests up to $1 million only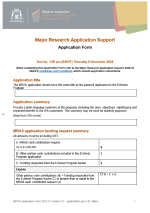 Application Form: requests above $1 million only and only for submission to assessment period ending 11 October 2022 and 8 December 2022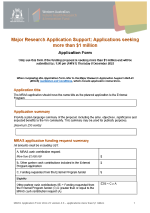 Minimum Data Form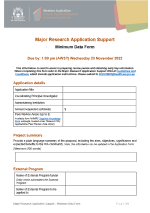 Any queries related to the program can be directed to the Western Australian Department of Health, Office of Medical Research and Innovation
Information on other FHRI Fund programs can be accessed by subscribing to updates or checking the FHRI Fund current opportunities.
Major Research Application Support Program Questions and Answers
LAST UPDATED 16 NOVEMBER 2022
Useful links:
I am not an Australian citizen or permanent resident. Am I eligible to apply?
Possibly. In addition to Australian citizens and permanent residents, you are eligible to apply to this Program as the lead investigator (e.g. the Coordinating Principal Investigator, Innovation Lead or potential Fellow) if you are a New Zealand citizen or have an appropriate work visa in place.
In addition, it is a requirement that the lead investigator is based in WA for a minimum of 80 per cent of the period of the grant.
What will the Fund consider as evidence of co-leadership of an External Program application given most grants can have only one Chief Investigator A (CIA)?
Where External Program rules define a different role and/or responsibilities for the CIA / Coordinating Principal Investigator (CPI) (or other first-named investigator title), the person in that role must be based in WA to be eligible to apply to MRAS. If the External Program does not differentiate between the first-named investigator and other investigators, or explicitly provides for a co-lead scenario, this arrangement could be eligible within the MRAS Program (subject to evidence being provided). See Section 4 of the Guidelines and Conditions.
My External Program application has an administering institution that is not based in WA, but a significant proportion of the grant will be delivered in and led out of WA. Am I eligible to apply to MRAS?
In general, applications need to be led by a WA administering institution to apply to MRAS. However, an MRAS application may be eligible if the External Program provides for there being co-leading administering institutions (evidence is required to show that this is allowed in the External Program). See Section 4 of the Guidelines and Conditions.