Co-Funding Partnerships Program
The Co-Funding Partnerships Program (Co-FPP) is a Program of the Future Health Research and Innovation (FHRI) Fund.
The purpose of the Co-FPP is to establish collaborations and funding partnerships to bring genuinely new non-government funding for health and medical research and innovation to WA, and to build a culture that supports co-operation and interconnectedness.
Advantages of partnering with the FHRI Fund, which is administered by the Department of Health, include:
Leveraged funding in a shared area of interest, increasing impact.
Reputational benefits of being involved in Programs supported by the FHRI Fund, which is the State's premier and legislated vehicle to support health and medical research and innovation.
Promotional opportunities to publicise co-funded Programs, including through Ministerial media statements, the FHRI Fund website and extensive stakeholder distribution channels.
Access to expert personnel to design bespoke funding programs that are transparent and competitive, or choose from tried and tested FHRI Fund programs tailored for the co-funded Program or Initiative.
Best-practice application review processes, including access to expert reviewers drawn from an extensive database including consumers, clinicians, academics and private industry.
Unparalleled cross-sector reach, including into hospitals, universities, research institutes and industry to ensure high-quality applications are received.
Robust grant award and management processes, ensuring co-funding is spent appropriately.
Embedded evaluation, so that the benefits of the co-funding are tracked.
Further information about the Co-FPP is provided below. If you would like to speak to someone, please email the Office of Medical Research and Innovation and a team member will get in touch with you.
Eligibility
Co-FPP applications may be made by an individual or an organisation. Partnerships will only be formed where the proposed use of partnership funds aligns with one of the four elements of the object of the Western Australian Future Health Research and Innovation Fund Act 2012 and at least one of the following:
one or more objective of the refreshed FHRI Fund Strategy
addresses Aboriginal health and/or regional and remote Western Australia health issues
Application process
Selection of co-funding partners will be through a two-step process:
Potential partners submit an online expression of interest (EOI)
If their EOI is found to be eligible and appropriate, the potential partner will be invited to submit a Proposal to Partner form.
The Office of Medical Research and Innovation will work with potential partners to guide them through the above steps.
Proposals to Partner will be reviewed by a suitably experienced panel and, if successful, the partner and the Office of Medical Research and Innovation will work together to design the new co-funded program.
Funding
Co-FPP proposals may request contributions from the FHRI Fund of between $500,000 and $1,000,000 per annum per proposal and the FHRI Fund contribution must be at least matched in cash by the Funding Partner. The co-funded Program cannot be ongoing.
The co-funded Program
Co-funded Programs could, for example, provide funding for fellowships, research projects, innovation activities or infrastructure. The Office of Medical Research and Innovation will work with partners to determine a co-funded Program that suits the partner and the FHRI Fund.
Award of funding through the co-funded Program will be through open, competitive and transparent processes, with guidelines and conditions for applicants.
How to apply
Prospective Funding Partners may submit an online expression of interest (EOI) to co-fund a FHRI Fund Program or Initiative at any time. However, expressions of interest and proposals to partner received in the final month of a FHRI Fund 4-monthly Funding Program cycle will be considered after the next funding cycle commences. The Funding Program cycles commence at the start of March, July and November each year.
An electronic EOI form may be requested by emailing the Office of Medical Research and Innovation
The Co-FPP Guidelines and Conditions can be accessed below: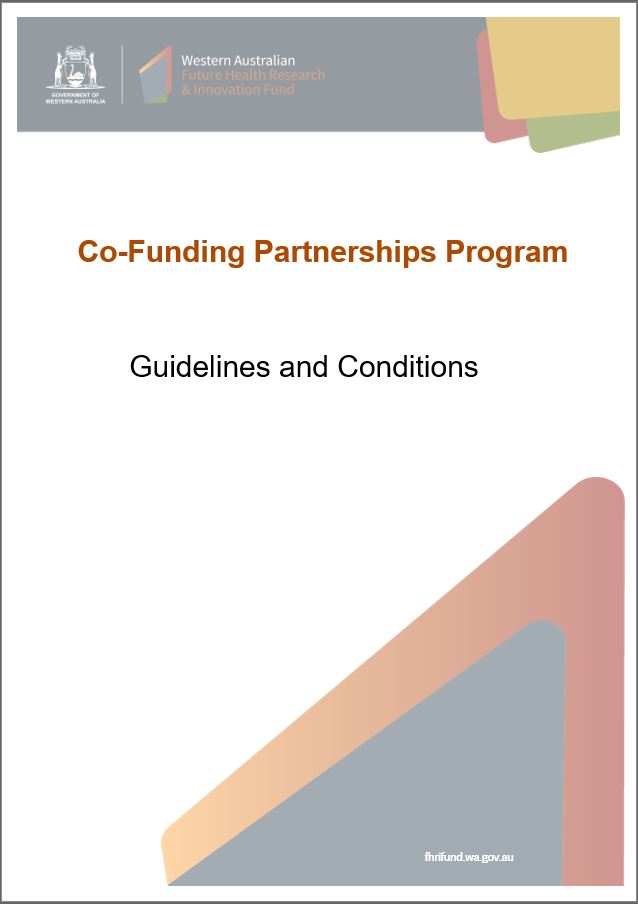 Any queries related to the program can be directed to the Office of Medical Research and Innovation.
Information on other FHRI Fund programs can be accessed by subscribing to updates or checking the FHRI Fund current opportunities.
Co-Funding Partnerships Program Questions and Answers
LAST UPDATED 16 NOVEMBER 2022
Useful links:
Do the Co-FPP funds need to be used within 12 months with unspent moneys returned?
The Co-FPP funding is used to form a funding pool (with matching partner funding) that is then distributed through a competitive process to recipients to spend on their research or innovation activity. Therefore, the co-funded program will have a contribution of $500,000 to $1 million from the FHRI Fund to award in a year, but the final recipient could spend the awarded funds over multiple years.
If the co-funded program does not award all available funds, or a final grant recipient does not expend all the funds provided to them, the remaining funds would be returned to each co-funding partner in proportion to their original contributions.
I am a researcher and a funding organisation has committed funding to a research project of mine. Can I apply to the Co-FPP for funding to match this funding organisation's commitment?
No. Applicants to the Co-FPP will generally be organisations such as charities and not-for-profits: a researcher or innovator seeking funding to do their own work is not eligible to apply. In addition, the Co-FPP contribution must be for a new program to which anyone can apply. See Section 4 of the Guidelines and Conditions for further details.
I am an organisation which runs an annual research funding program. Will the Co-FPP provide matching funding for this program?
No. The Co-FPP is for new programs, developed through consultation between the FHRI Fund and the funding partner (see Section 4 of the Guidelines and Conditions).
I am a WA research organisation and I want to co-fund a program with the FHRI Fund to which my researchers might apply. Is this allowed?
Yes, but researchers from other organisations must be able to apply and have an equitable chance of being successful (see Section 4 of the Guidelines and Conditions).