$1.5 million boost for WA biobanking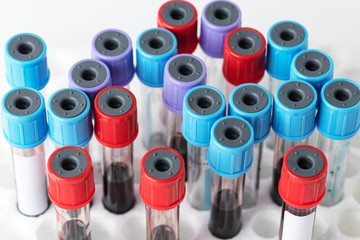 Sixteen high-quality Western Australian biobanks were awarded over $1.5 million through the Biobank Interim Support Program 2021, which is supported by the State Government's Future Health Research and Innovation Fund.
The 16 grant recipients were selected through a competitive merit-based process with each biobank meeting criteria for research excellence and engagement with the community.
The grants will support these Western Australian biobanks while a new State biobanking model is being developed.
The National Health and Medical Research Council defines biobanks as generally large collections of human biological materials linked to relevant personal and health information and held specifically for use in health and medical research.
Biobanks provide a valuable resource for health and medical research to advance our understanding of human health and disease.
See the table below for the list of grant recipients.

Biobank Interim Support Program 2021 grant recipients
| | | | |
| --- | --- | --- | --- |
| Biobank name | Biobank representative | Administering institution | Funding Awarded |
| Airway Disease Biobank | Mr John Elliot | West Australian Sleep Disorders Research Institute | $35,513 |
| Cancer Blood Biomarkers Study - Biobank | Associate Professor Elin Gray | Edith Cowan University | $52,000 |
| Harry Perkins Institute DNA Biobank | Professor Grant Morahan | Harry Perkins Institute of Medical Research | $189,985 |
| Lifelong Impact of Burn Injury | Dr Mark Fear | The University of Western Australia | $24,876 |
| Myositis Discovery Programme Biobank | Professor Merrilee Needham | The University of Notre Dame, Australia | $39,597 |
| National Centre for Asbestos Related Diseases Biobank | Professor Jenette Creaney | The University of Western Australia | $86,953 |
| ORIGINS Biobank | Professor Desiree Silva | Telethon Kids Institute on behalf of the Centre for Child Health Research, The University of Western Australia | $170,735 |
| Perron Genomics Biobank | Professor Sulev Koks | Perron Institute for Neurological and Translational Science | $97,547 |
| Perth Longitudinal Study of Ageing Women | Associate Professor Joshua Lewis | Edith Cowan University | $42,303 |
| Telethon Kids Cancer Centre Biobank | Professor Terrence Johns | Telethon Kids Institute on behalf of the Centre for Child Health Research, The University of Western Australia | $156,535 |
| The Busselton Health Study Biobank | Clinical Professor Alan James | Busselton Population Medical Research Institute | $252,981 |
| The Perkins Cancer Biobank | Dr Louise Winteringham | Harry Perkins Institute of Medical Research | $152,410 |
| The Western Australian Bio Bank | Professor Toby Richards | The University of Western Australia | $71,514 |
| WA MND Consortium | Professor Merrilee Needham | The University of Notre Dame, Australia | $28,026 |
| Wal-yan Respiratory Centre Cystic Fibrosis Biobank | Professor Stephen Stick | Telethon Kids Institute on behalf of the Centre for Child Health Research, The University of Western Australia | $64,872 |
| Western Australian Epithelial Research Program | Associate Professor Anthony Kicic | Curtin University | $59,028 |