Advisory Council Members attend Science on the Swan Conference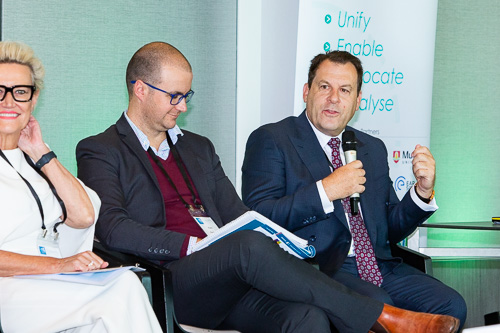 Advisory Council Members attend WA Science on the Swan Conference
The Future Health Research and Innovation (FHRI) Fund Advisory Council (AC) took the opportunity to schedule their May meetings to align with the annual Science on the Swan Conference, hosted by the WA Health Translation Network in Perth.
A number of AC members were able to attend the May meetings in person which allowed them to also participate in the Science on the Swan Conference and engage with local WA health and medical researchers and innovators.
FHRI Fund grant recipients delivered lightning round, oral and poster presentations on their funded research and innovation projects, illustrating how the FHRI Fund is supporting translation of research and innovation funding into outcomes and benefits for the WA community.
AC members also participated in a Science on the Swan panel session on partnering for success which led to some interesting discussion on how the FHRI Fund can support and encourage partnerships and collaboration.
Findings of a PriceWaterhouseCoopers review of Advisory Council function and performance were communicated to the AC members at the May meetings and members discussed how to incorporate review recommendations into AC functions and operations and determined key strategic areas of focus for the next year.
The May meetings resulted in AC recommendations and Ministerial approval of some new Programs and Initiatives which will be launched at the next July Open Day. The AC Chair has now released the Meeting Communique 5: May 2023 which provides further detail on outcomes of the May meetings.
Any questions regarding the FHRI Fund AC can be directed to DOH.OMRI@health.wa.gov.au