AusCEP: WA clinicians on the innovation fast track to transform healthcare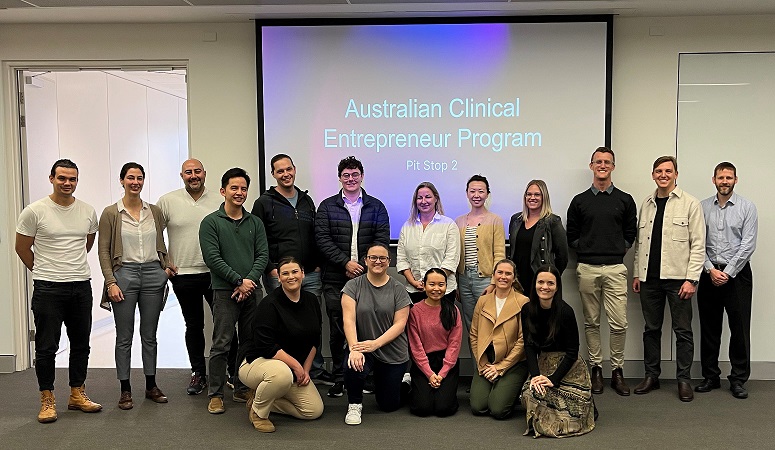 The Australian Clinical Entrepreneur Program (AusCEP) equips healthcare professionals with the innovation and entrepreneurial skills to translate their big ideas into impactful solutions to create positive change for the healthcare system.
Co-funding from the Future Health Research and Innovation (FHRI) Fund has enabled participation of WA clinicians in the first two cohorts for this program and offers the ability for them to continue work in our hospitals and healthcare settings while chasing their entrepreneurial ambitions.
Clinicians in this program undertake a series of pit-stop workshops, where they will participate in activities to build their entrepreneurial skills. This is complemented by mentoring, one-to-one advice meetings with relevant experts, and networking opportunities.
WA has achieved great success in this program, which was available to medical and non-medical health clinicians based in WA, NSW and Victoria.
The first cohort of the AusCEP recently completed the program (external site), including 20 WA clinicians from a diverse range of health professions. Note in cohort 1 Anna Surla deferred until Cohort 2.
In 2023, 15 WA clinicians have been selected to participate in AusCEP Cohort 2:
| | |
| --- | --- |
| Nicholas Buckley | VeinTech Pty Ltd |
| Collin Chin | East Metropolitan Health Service |
| Helen DeJong | Perth Scar and Pain Clinic |
| Thomas Drake-Brockman | Child and Adolescent Health Service |
| Gabrielle Holt | Schulte Holt Technology; South West Eye Surgeons |
| Caitlin Hunt | O2 Active |
| Abdul Rahman Ihdayhid | South Metropolitan Health Service |
| Arjun Kaushik | VitalTrace Pty Ltd |
| Joos Meyer | East Metropolitan Health Service |
| Claire Mullane | East Metropolitan Health Service |
| Hanh Nguyen | GenesisCare |
| Harry Smallbone | South Metropolitan Health Service |
| Anna Surla | Mount Hospital |
| Amy Wallis | Selsus |
| Emily Zhen | South Metropolitan Health Service |
The FHRI Fund congratulates the WA clinicians who completed the first cohort of the program, wishing them well on their entrepreneurial journey, and welcomes the new intake of 2023 AusCEP WA participants.